Developments and Innovations on Additive Manufacturing
Workgroup in INFN Padova
About us
DIAM is a workgroup of the INFN Padova section. It was born in 2016 and it is intended to carry on scientific and technological research on Additive Manufacturing (AM). The multi-disciplinary team include engineers, researchers, technicians, etc. with a background in mechanics design and material sciences.
Additive Manufacturing
Introduction
The concept of 3D printing is based on producing three-dimensional components layer by layer, starting from a plastic or metal wire (FDM), a liquid resin (SLA) or metal powders (BJ, SLM and EBM). This technology is particularly innovative, because it permits to overcome many limits imposed by conventional subtractive technologies, thus it allows to manufacture easily complex geometries.
Additive Manufacturing (AM) of metals includes several techniques, mainly based on microfusion of metallic powders, that let to build thin layers with high precision. Selective Laser Melting (SLM) consists of melting a metal powder bed, through high powerful and focused laser source. The figure shows schematically how the process occurs.
This technology finds major applications in those sectors where innovation is the driving force, such as aerospace, automotive, biomedical, nuclear fusion and thermal exchange management.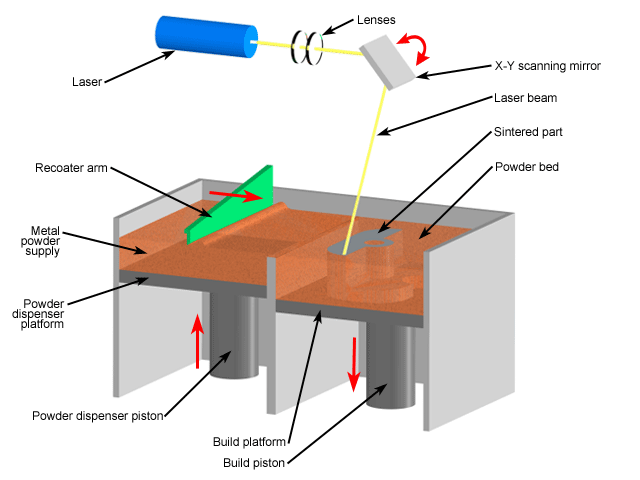 AM Research at the INFN Padova
At the I.N.F.N. Padova Division, we have three AM machines with SLM technology incorporated. The research aims at developing new printable metals and metal alloys, in particular refractory metals pure copper and copper alloys, in order to fulfil the high design constraints in fusion environment applications. A branch of the research is investigating the feasibility of AM technology to manufacture components with internal cooling channels and to characterize internal channels in terms of pressure drop and thermal exchange. Our laboratory is provided to realize the most conventional printable metals as titanium, 316L stainless steel and aluminium.
Events
You can find us here!