Enormous particle accelerators, huge detectors built and managed by big international collaborations: all this to study the microcosm of the fundamental forces and constituents of matter.
We will talk about this and much more on Thursday November 15th, at Centro Culturale Altinate San Gaetano, during the conference organized by INFN Padova, in collaboration with Comune di Padova.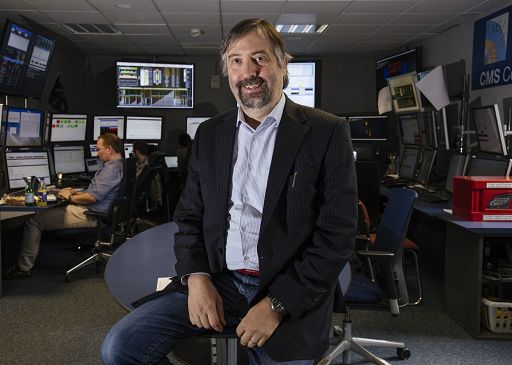 The speaker will be Roberto Carlin, Professor at Padova University Department of Physics and Astronomy and Researcher at INFN, now also spokesperson of one of the main CERN experiments: CMS (Compact Muon Solenoid).
For the occasion Carlin answered some questions we asked him, about his role as a spokesperson:
What are the challenges expected for CMS in the next years, while you will be leading the collaboration?
During most of the two years, in which I will lead the collaboration, the LHC will be off for the upgrade of the experiments and some of the accelerator components. The challenges for CMS are several: analysis and publication of the data collected in the last three years; preparation for the new data taking that will start in 2021 with an energy increase from 13 to 14 TeV; and finally also the maintenance and upgrade of the detector.
We will carry on the wide program of detector upgrade, recently approved by the funding agencies, essential to face the new HL-LCH challenges: the luminosity increase, namely the number of colliding particles per square cm, of LHC expected from 2026 on. It requires a relevant rebuild of various components of the experiment and of their electronics, whose construction will start in the next years.
It means many challenges, all at once, all essential, the hardest one is planning all the activities so that the collaboration resources will be able to face them successfully.
How should we imagine the work of the spokesperson of such a large collaboration? What are the difficulties and the most captivating aspects?
It is a complicated job because it takes place on very different levels: from the interaction with the funding agencies of the several countries taking part in the experiment, to the solution of daily problems that may require urgent interventions. The difficulties are many, maybe the hardest is to keep an accurate overview of everyday's events and at the same time to keep in touch with the long term challenges. The most captivating aspect is the continuous interaction with such a large number of colleagues from all over the world, with different cultures but all with the common target to maximize the CMS contribution to science.
Besides you, another researcher form Padova is leading a LHC experiment, Federico Antinori at ALICE. How can you explain this extraordinary result?

It's extraordinary especially because another Italian physicist is coordinating a third experiment so, at present, three out of four large CERN experiments are coordinated by Italians. This proves the important role  Padova has for Physics in Italy and of Italian Physics in the world. 
For further information, contact:
INFN Padova Communication Office
comunicazione@pd.infn.it
www.pd.infn.it
phone: +39 049 967 7022